TV appearance on "The View" in the USA
Exciting news from the USA! Our red and orange SWIMTRAINER "Classic" as well as our Swim Board and Swim Nappys were presented on the show "The View" in the USA on July 24, 2023.
View your Deal is a show of the US channel ABC, where companies can present and sell their high quality products.
We are glad that we had the chance to present our swim products to the American audience.
Award ceremony – Quality – Made in Augsburg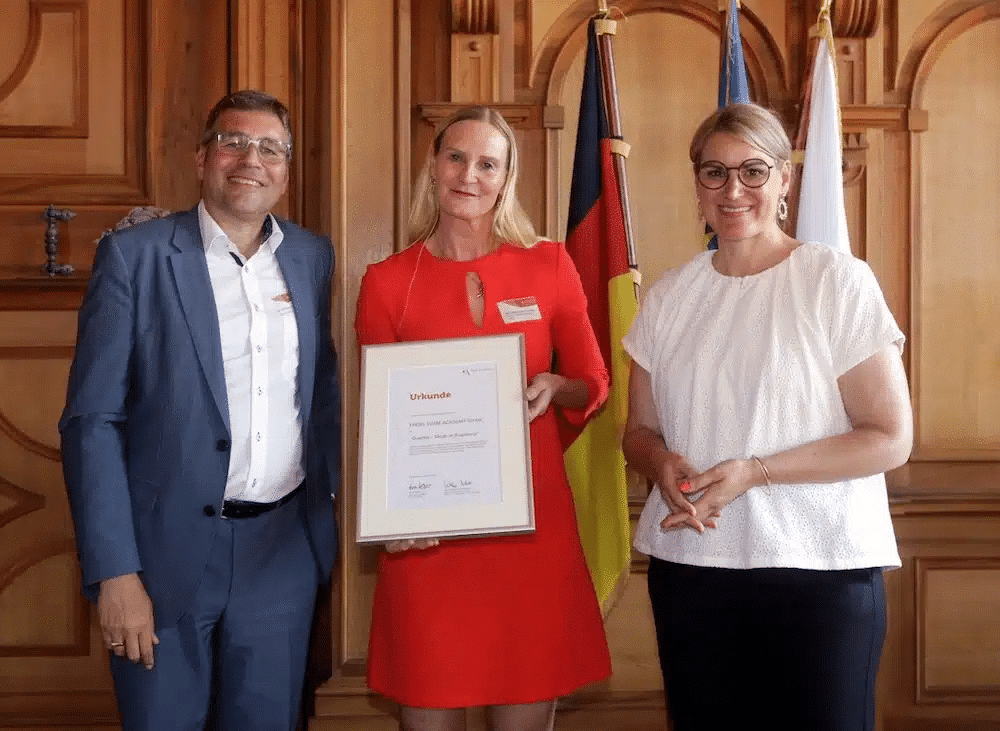 Ten companies were awarded the "Quality – Made in Augsburg" certificate of recognition by the City of Augsburg on June 12, 2023. Mayor Eva Weber and Economic Affairs Officer Dr. Wolfgang Hübschle presented the awards at a reception in the Fürstenzimmer of Augsburg City Hall. With this recognition, the City of Augsburg honors companies whose outstanding products, projects or services give Augsburg a profile as a business location. The award-winning companies reflect the full range of Augsburg's wide spectrum of industries and show how heterogeneous Augsburg is as a business location.
SWIMTRAINER "Classic" VIP
Hello, my name is Leonie Beck and I learned to swim as a 4-year-old child in Augsburg at the swimming school FREDS SWIM ACADEMY with Verena Lacher with the SWIMTRAINER "Classic". The SWIMTRAINER are great because the children are in the right swimming position, which makes learning to swim easier.
In the meantime I have become a successful swimmer and participated in several international championships such as the Summer Olympics and World Championships.
I can highly recommend the FREDS SWIM ACADEMY and the system with the SWIMTRAINER and wish all children success and fun in learning to swim.
Our influencers worldwide
We welcome collaboration requests from influencers.